ALEX ZERBE
If you're interested in having Alex Zerbe come to your school, please fill out the booking form.
He really wants to hear from you, so give him a call or an email.
206-409-9004
alex@alexzerbe.com
Check out www.AlexZerbe.com for more information on Alex and his other shows.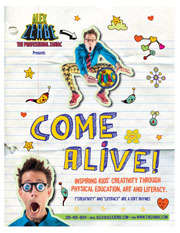 This study guide has more information about Alex's assembly and features pre and post performance activities.
Click here to see what others are saying about Alex Zerbe's school assemblies.
Press Kit
Please use the pictures, posters, and graphics in Alex's electronic press kit to promote his appearance at your school.