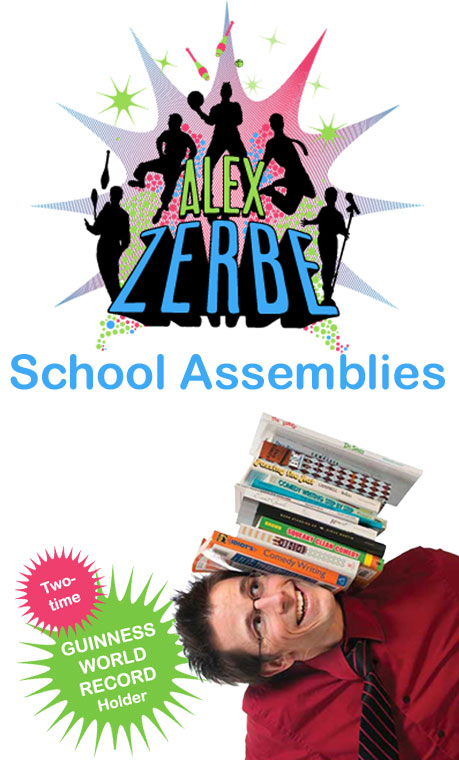 Sign up for The Zaniac Newsletter!
Seattle's Funniest Prop Comic, Alex Zerbe, also known as "The Zaniac" has performed over 1,500 school assembly programs in 44 states. He's appeared on both America's Got Talent and Last Comic Standing as well as national television in China and France. A natural born motivator and two-time Guinness World Record Holder, Alex knows how to inspire and connect with students of all ages.
Reading, Science and Bullying
Since 1999, students at elementary, middle and high schools in Washington, Oregon, and British Columbia have watched in awe and fascination as Alex has turned a volunteer from the audience into a miniature version of the solar system, used his original hip hop song, "At the Library" to excite students about the world of books, and performed acrobatic and juggling stunts that illustrate how to combat the dangers of bullying. Click below to find info on specific shows.
The Shows

A Science Show with an Explosive Mix of Juggling and Fun.
The Zaniac takes a tornado of juggling skills, combines it with a whirlwind of in-depth physics knowledge and sends it crashing directly into your student's brain. This is the perfect show to inspire your students about science or kick off your Science Fair.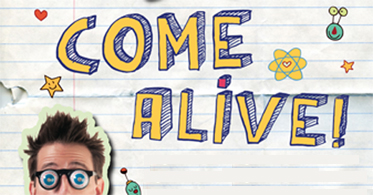 Inspiring Kid's Creativity through Physical Education, Arts and Literacy.
Come Alive is an educational and entertaining reading assembly that excites kids about the joys of reading, and teaches the importance of confidence, persistence and self-expression.
Family Night Performances
Alex is a versatile and highly interactive performer who is able to present a strong message during his school programs. He also performs a family night performance that is entertaining for adults and kids alike. His promotional materials, which are available both electronically and in a hard copy version, make promoting the show a breeze. His performances are often the best reviewed and highest attended programs of the year.
Alex Zerbe's school year calendar books up fast, so, if you want a special, one of a kind, entertaining, motivational and educational show for your school, then don't delay, "The Zaniac" is just a phone call away.
Testimonials
"It was amazing how well you incorporated all the educational messages into the show. You were a huge inspiration to the students!"
- David Groth - 5th Grade Teacher at Sorensen Elementary
"The sixth graders wanted autographs! It is really hard to get them excited and it was delightful to see them so happy."
- Jayne Tracy - Rose Hill Elementary Librarian
When you did your "At the Library Rap," my son was like,"I'm gonna go home and do that!"
- Janina Pacunski - PTSA Secretary
"You kept the kids focused, entertained, and inspired. I would be happy to recommend you to any and everyone."
- Terry McClelland - 5th Grade Teacher at Harbor Heights Elementary
"OMG!! Your performance was EXCELLENT I really liked it!!!"
- Kilee Cameron - 5th grader at Carson Elementary School
"Alex was phenomenal. Not only were the kids having the best time ever but the teachers were rolling on the floor laughing. We loved the library and reading connection."
- Jenny Hilger - School Librarian at Meridian Park Elementary
You were a HUGE hit with us this summer. More than one person has said that your show as the best they have EVER seen. I would echo that. We truly love your show! I can say for sure that we'd like to ask you back again.
- Ellen Duffy - Youth Services Coordinator, Timberland Regional Library System
"Many students and staff have approached me and offered their thanks for coordinating the assembly. I would highly recommend you to any other school."
- Andrew Hershey - PE Teacher and Assembly Coordinator
"WOW! Alex was amazing! He performed for our graduating seniors on their all night graduation celebration, which means he performed, full of energy and wit, at 3AM. He had read our local paper and made jokes with the kids as if he'd known them for years. They loved it! I would HIGHLY recommend Alex. He is professional, extremely talented and accommodating! I would hire him again in a heart beat!"
- Liz Covert - Grad Night Coordinator, Friday Harbor High School
"You were fantastic, I loved it!"
- Noah Duszynski - 7th Grader
"His performances are high energy, fun for all ages and contain important messages about books, stories, reading and libraries. I hired him for a series of in-school assembly programs that are part of a promotion for our "Ready, Set, Read" series.
Not only are the performances outstanding, but Alex demonstrates a professional attitude, has good business sense and understands that details like being reliable, communicating and providing excellent promotional materials are also part of the job.
Please feel free to contact me if you need any additional information, but be forewarned, I may just "gush" about Alex."
- Deborah Schneider - Public Programs Coordinator, King County Library System